Overview
Free Trial Downloads

Download 3D (Password Reqired)


3:27 min, 77.3 MB


3:10 min, 74.0 MB


12:37 min, 277 MB


7 min, 148.3 MB


7:00 min, 161.3 MB


6:29 min, 94.8 MB


3:59 min, 87.0 MB


3:02 min, 115.2 MB


3:08 min, 84.5 MB

| | |
| --- | --- |
| The display scripting software of choice is now available with a completely redesigned 3D graphics engine that takes virtual show design to a new level. While other 3D simulators have been around for some time, many users have found the simulations to be lacking in realism or just outright incapable of producing certain kinds of effects. ShowSim 3D uses advanced gaming technology and a revolutionary particle system to create the most realistic firework simulations ever produced by a computer, and there's virtually no effect it can't handle. But don't take our word for it, download the sample videos shown here and see for yourself! | |

Jaw-Dropping Realism
- smoke
- wind
- particle physics


View Shows From Any Angle
- 3D viewing environment
- 3D site modeling
- camera animation scripts


Expanded Effect Library
- 1800 stock effects
- import effects from XL\Pro


New Special Effects
- colored smoke
- horizontal wheels
- girandolas
- multi-stage rockets


Powerful Custom Effect Editors
- improved shell editor
- programmable effect engine


Customizable Sound Effects
- use your own sound samples
- control volume level per sample
- sound delayed over distance


Realistic 360 Degree Skylines


Import Models From Google's 3D Warehouse


Fast Real-Time Playback


Easy Transition From XL\Pro
- same great user interface
- import existing effects from XL\Pro
- import existing shows from XL\Pro










If a picture is worth a thousand words, then a motion picture is priceless. ShowSim frees your imagination to focus on the creative aspects of your pyrotechnic show designs by integrating a ground breaking scripting and choreography interface with realistic effect simulations, allowing you to preview your shows in real time color animation with sound effects and music. ShowSim takes the guesswork out of fireworks show visualization for both designers and clients!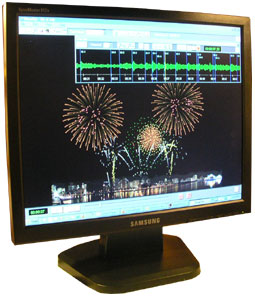 Scripting with integrated simulation


Powerful time line editor


Effect browser with search & filtering


Click & shoot effect browsing


Drag & drop show creation


Multiple item clipboard


Timer chain support


Script different effects on same cue


Custom background images


Unlimited firing positions

Over 1200 stock effects


Create custom effects


Effect library add-ons


Full screen simulation mode


Inventory management


View running show cost as you work


Setup reports with accurate rack counts


Export directly to hardware formats


Create PyroDigital audio feeds


Import your existing inventory database
Scripting

Main scripting interface.


Script complex chains on a single cue.


Arrange panels however you like.


Simulation with timeline at bottom.


Effect Browser with filters and search.


Dragging a cue marker on the timeline.


Script complex timed effect fronts.



Visual Effect Browsing
Clicking any effect listed in the effect browser will immediately fire it right on the screen. Rather than trying to figure out what the effect name means or looking at a static picture that shows just one frame of animation, ShowSim allows you to see exactly what the effect will do before adding it to your show!

Script Complex Cues
Script your cues exactly how they appear in real life, even when different effects of different sizes need to be fired from the same cue. No more confusing scripts resulting from software limitations!

Timer Chain Support
Timer chains are a common way to make bigger shows using less cues. ShowSim provides full support for these delay chains, both during simulation and when printing setup and chain fusing reports.

Data Loss Prevention
ShowSim is driven by a powerful database server that runs outside the main application. This means your data is continually saved as you work, rather than requiring you to periodically click "Save" to make changes permanent. Data loss due to unexpected power outages or system crashes are minimal to none.

Effect Browser with Search and Filter
A powerful effect browser allows you to sort through the thousands of categorized effects within the effect libraries. Filter effects by size, type or manufacturer, or search for effects containing keywords.

Drag and Drop Show Creation
Once you find the effect you are looking for, simply drag it from the effect browser and drop it right into your cue list.

Cue-Drop Record Mode
A special record mode allows you to drop blank cues in real time while listening to music. This is a common choreography technique preferred by many designers.

Multi-Item Clipboard
A special clipboard allows you to copy single effects, single buckets on a given chain or an entire cue into memory. You can copy as many items as you want, then select them from the clipboard list when reusing them elsewhere.

Build From Inventory
The fastest way to script a show is to work from an inventory of pre-defined effects. Prefire times, effect size, effect type and other parameters are automatically set when placing effects from an inventory database.

Running Show Cost
When building shows from inventory, a running total for the cost of the show is displayed on the main menu bar. Keep an eye on cost overruns as you work, or just keep adding shells until the budget limit has been reached.

Visually Test Single Effects & Cues
The advantage to having scripting and simulation integrated into the same development tool is the ability to get instant feedback on the appearance of your show at any time during the creation process. Test fire a single cues or even effects within a cue to see how it looks before moving on.

Auto Cue Numbering
Cue numbers are automatically assigned as you work, but a more powerful tool allows you to reassign all cue numbers at once based on several grouping criteria. Group cue numbers by position or segment to insure that modules are not split across large distances. Cue numbers can also be ordered according to time, shell size or effect type in addition to the grouping requirements.

Auto Cue Descriptions
Even when you are not working from inventory, the descriptions for each cue are automatically generated using a default naming convention. This optional feature can be turned off on a per cue basis, but the amount of work it saves makes it valuable in most cases.

Multiple Time Formats
A variety of standard time formats are supported, including 10ms, 100ms and SMPTE 24, 25 and 30. Formats can be changed at any time while working, and all display times will adjust to reflect the current format.

Metric or English Units
English and metric units are supported throughout the application, depending on your preferences.

View Launch or Burst Times
The time line and cue list can show either burst times or lift times, depending on what you prefer to work with. These modes can be quickly toggled back and forth with the click of a button.

Batch Cue Removal
A utility for specifying groups of cues to be deleted makes removing portions or entire segments of a show fast and easy.

Batch Time Adjustments
A utility for adding or removing time from groups of cues makes it easy to expand a show by adding new segments between existing segments.

Front Wizard Tool
A utility for automatically creating the spacing and angles for fanned effect front configurations makes this task go much faster.

Finale Wizard Tool
A utility for creating large chains containing hundreds of effects makes this otherwise monotonous task go much faster.

Show Merging
Show data that has been exported into a .sho file can be merged into an existing show, allowing several designers to work on portions of a given show and then merge them all together.

Sort by Column Type
The cue list can be easily sorted by one of six column data types, and also supports second and third order sorting to insure your cues are listed in the most readable order.

Adjustable Screen Layout
The size and position of all screen elements are fully customizable by the user, and your changes are remembered even after the application is shut down. Do you like to work with the time line at the bottom, a full length cue list or an effect picker at the right side of the screen? No problem!
Setup

Placing firing positions.


Setting show preferences.





Custom Background Images
Use digital photos of your actual shoot sites as back drops for your simulations. Photos can be resized from within ShowSim, and effects can be fired from behind images as well as in front of them for added 3-D realism.

Unlimited Firing Positions
Use as many firing positions as it takes to get the job done.

Dragable Position Markers
Firing positions are easily positioned by dragging arrow icons around on the display area. You can even relocate positions after cues have already been assigned to them, allowing you to fine tune the appearance of your shows after all the scripting is done.

Adjustable Viewing Distance
Effects are scaled according to a viewing distance that you can specify. Viewing distances can be set for each firing position, allowing some effects to be fired up close, such as cakes and gerbs, while other effects can be set back further from the viewer.

Music in 8-bit or 16-bit WAV Format
For choreography applications, ShowSim can support scripting to music soundtracks recorded in either 8-bit or 16-bit WAV format. Sound data is streamed from your hard drive, so very large music files are not a problem.

Multiple Cue Naming Formats
Three cue naming formats are provided, allowing you to choose the format you are used to working with. These include the alpha-numeric format (example: A-1), the numeric-numeric format (exmaple: 1-1) and the PyroDigital hexadecimal format (example: 0F-1).

Adjustable Module and Cue Limits
Specify the maximum allowed module count and the cues allowed per module, preventing cue numbers from exceeding your hardware limitations.

Manufacturer Specific Default Prefire Times
For shows where the exact prefire times for each effect used is not critical or not known, a table of manufacturer specific prefire times can be used to assign default prefire values to each item as you build your show. You can also create your own table of default prefire times.

Inventory Manager


Inventory Editor


Inventory Alerts


Mortar/Rack Inventory





Inventory Imports
The task of setting up a full inventory can be ominous if starting from scratch. However, if you already have an inventory setup in another scripting application, then a lot of work can be saved by importing this directly. ShowSim supports a variety of common inventory database formats used in other applications. If the format of your inventory is not supported, then you can contact ShowSim to have a new import filter developed for your specific file format.

Inventory Manager
The Inventory Manager panel is a central location where you can manage the way your inventory is organized, view statistics, update stock quantities, do cost analysis and other useful functions having to do with inventory items.

Show Product Removal
Rather than adjust inventory quantities while you build your show, ShowSim allows you to complete your show and then deduct it from inventory all at once when the show is completed and ready to fire. This method of inventory deduction also allows you to subtract the same show stock more than once, which is useful for "canned" shows that you may fire on a regular basis.

Show Product Replacement
ShowSim allows you to add the products consumed by a show back into inventory with a single button click. This feature is useful for replacing stock that was previously removed for a show that was rained out or canceled for some reason.

Inventory Editor
The Inventory Editor is where all items in your inventory groups are created and edited. A scrollable list similar to the Cue Editor is used to manage all information associated with each inventory item. In addition to stock number and effect description, each inventory item is assigned price, manufacturer, stock quantity, size, prefire time, weight and setback distances. These fields are necessary in order to take advantage of other features in ShowSim, such as dynamic cost tracking during show construction, safety reports and inventory stock alerts.

Inventory Alerts
Since the number of inventory items in your database can get very large and distributed into many groups, the task of checking for reorder status or missing data would be unmanageable if you had to do it by browsing items in the Inventory Editor one at a time. The Inventory Alert utility was created to make this task much easier and fully automated, giving you ten different kinds of alerts to choose from. These alerts are broken down into two basic types: inventory quantity checks and incomplete data entry checks.

Product Restock Alerts
Each inventory item is given a restock threshold when the item is added to inventory. When the quantity of an item falls below the restock threshold, a restock alert will be generated for the item.

Missing Data Alerts
Incomplete inventory data can cause false reports when doing cost analysis or even result in improper effect performance during simulation. Missing data alerts give you a way to search for incomplete data in your inventory so you can insure the integrity of your data.

Mortar Stock Alerts
ShowSim allows you to enter your mortar and rack inventory into the database, which can then be used to alert you to rack shortages based on the firing dates of your shows. If several shows overlap in a given time period, ShowSim helps you insure that you have enough racks to cover your needs.

Video mode title screen.


Lampares, mines and crosettes.


A double petal silver chrysanthemum.


A gold brocade shell.


A canister shell of shells.


A pair of Saturn shells.


Silver gerbs with micro-stars.





Real Time Graphic Animation
ShowSim can display your shows instantly at any time, giving you full color feedback with the proper height, scale and effects specified in your script. Unintended effect combinations or dead spots in your shows will be instantly revealed on your screen instead of during the live show. You will also have the ability to give clients a preview of your proposed shows, giving you a large advantage over competing bids. Simply route your video and sound output from your computer to a DVD recorder, burn a disk and mail it to your client!

Fast 2D Graphics Allow Complex Shows
ShowSim avoids the unnecessary complexity and speed requirements brought on by 3D simulations by employing simple yet effective 2D graphics. The reduced overhead resulting from 2D graphics means many more shells can be fired at once without bogging down your computer, allowing for more complex and dense segments in your shows.

ShowSim effects still appear to be 3D, as the pictures to the left reveal, even though they are technically 2D images. The shading, motion, velocity and other factors are controlled to give the illusion of depth and space without the computation intensive processing required by true 3D modeling.

Digitally Sampled Sound Effects
Realistic sounds sampled from real fireworks are used for lift, burst, crackle, crosettes, cake shots, salutes, whistles and other effects. Crank up the volume and get psyched for your next show!

Adjustable Sound & Music Volumes
The volume level for both music and sound effects can be adjusted independently, allowing you to lower the effect volume to account for further viewing distances. The sound can also be muted for both effects and music independently.

Video Playback Controls
Simulations are controlled using buttons similar to a standard VCR or DVD player. These include rewind, play, stop and a pause button that will freeze the current animation frame. A slider bar allows you to quickly adjust the play position anywhere you like, and also indicates the current play position of your show relative to the end of the show.

Full Screen Display Mode
During a simulation, clicking on the display area will toggle the view between full screen mode, which removes all the window control frames so that only the fireworks and background images are visible on an otherwise black screen. A special video record mode begins the show in full screen mode with a title screen delay, giving you time to start your recorder if burning a video for a sales presentation.

Start Simulating from Any Cue
Each cue in the cue list has a Test button that allows you to begin a simulation starting from that cue. Individual buckets and effects on each cue also have Test buttons for quickly viewing effects without actually playing the show.

Most Common Effects Supported
A large variety of the most commonly used effects are supported in all standard colors by the simulator. These include pattern shells, ring shells, Saturn shells, multi-break shells, Maltese shells, insert shells, crosettes, comets, mines, complex cake items, roman candles, strobe pots, flares, gerbs, Niagara falls, go-getters, flying fish, falling leaves, colored salutes, lampare salutes, titanium salutes, rising effects on any shell and more. Almost any shell you can think of either already exists or can be produced using the custom shell editor in ShowSim.
Pricing

Product Report


Setup Report


Chain Report


Firing Script


Spotter Script





Printed Reports
ShowSim can produce a variety of printed reports that can help you setup and fire your shows. These reports can be reviewed and printed from the Print Preview screen, which allows you to view each page before printing.

Summary Report
This is a short report that gives some basic statistics for your show, such as location, date, duration, cue count, shell count etc. A Product Summary breaks the shell count down by size, and also includes the number of racks in each size that will be required to setup the show. The rack counts calculated by ShowSim take firing angles and locations into account in order to produce accurate rack counts that won't leave you short in the field.

Product List
The product report gives a detailed listing of every effect needed to produce the show. The effects are listed by size in order from smallest to largest. The quantity of each effect required is listed, along with the product ID, size, type and description.

Setup List
Setup reports are used to assist crew members in setting up a show. There are three types of setup reports available, which represent how the mortar racks are to be organized: segment, module or position. The report you use will depend on how you organize the layout of your show. This report will give you a separate sub-report for each mortar group, which can then be handed off to the crews assigned to setup each position.

Chain List
Chain reports are used as a blueprint for constructing all the effect chains required by your show. In the case of computer fired shows where each effect is cued as a single shot, then the chain list will not contain any real chains and each effect will just be listed individually. For shows were every shot is e-matched like this, the chain report is not useful. However, for lower budget shows where many timer chains are used in order to lower the cue count, the chain list can be a valuable construction aid.

Firing Script
The Firing Script reports show the sequence of effects that will be fired in the show, listed in order of time. This type of report is more commonly used when manually firing a show using a switch panel. There are two varieties of firing scripts that can be printed: verbose and brief. The verbose report tells you the cue number, fire time, fire position and a description of what will be fired. The verbose reports will also note when the module needs to be changed, giving the operator an indicator for what module to switch to. The brief report only lists the cue number and the fire time, and does not give the module change indicators.

Spotter Script
Spotter scripts are used by show watchers during a display as a way to spot misfires or duds that will require retrieval later. Thus the script must list everything that goes up in order to watch for things coming back down. The firing script only lists each cue hit, while the spotter script will list all the individual shells fired by each cue, with the actual times that each will fire.






Hardware Independence
ShowSim is designed to operate independent of any specific firing system hardware, allowing you to script shows for a variety of different firing systems without actually having to purchase scripting software specific to each system. This hardware independence means you only have to train yourself on one scripting application to have the ability to create shows that will run on any hardware system. The data resulting from scripts created in ShowSim can be exported directly into the native file formats required by industry standard hardware such as PyroDigital, FireOne, Pyromate and Q-fire systems.
Importing 3rd Party Data
While exporting shows from ShowSim into native hardware formats is a critical feature, ShowSim also allows you to import scripts and inventory databases created by other applications. If you have pre-existing scripts created in other applications that you would like to transfer into ShowSim, importing the data directly can save considerable setup time. Following an import, the only tasks left to do are firing position setups and effect assignments.

Importing an existing Inventory database created in another application can likewise save you considerable amounts of time when making the transition to ShowSim. Like show imports, inventory imports will still require the manual assignment of effect types after the import is complete.

Audio Tape Feeds
Some firing systems require data to be transferred into the system via FSK encoded audio signals, such as the PyroDigital system. ShowSim can convert your show data into the FSK signals required by PyroDigital, which are stored in the form of a WAV file. These WAV files are burned onto a CD, and a standard CD or MP3 player can then be used on the field to transfer your show into the system prior to firing the show. PyroDigital and other firing systems that don't rely on a PC to fire the show are preferred by some show operators for their reliability (ie- they are far less likely to crash or lock-up during a show compared with PCs).

Continued Development
The addition of new hardware support as customer needs arise is an ongoing development effort at Passfire Labs. If your hardware is not supported by ShowSim, then our developers will work with you to determine your required data format and add it to the list of supported hardware. New Import and Export plug-ins are generally a simple matter to develop, after which they are made available via online upgrades that can be downloaded free of charge.

Q: During the install process, the MSDE installer freezes up and just sits there for a long time. Then it finally reports that there was an error and aborts the install. If I run the installer again, it indicates that MSDE is already installed, but then I get another error when trying to install the ShowSim component.

A: This is an infrequent situation caused by a bug in Microsoft's MSDE installer program. The unfortunate consequence of this rare occurrence is that a partial installation of MSDE is left on your computer, which will prevent ShowSim from installing properly. All traces of the incomplete MSDE installation must be manually removed so that the installer can run again. This is a rather painstaking process that our tech support can walk you through either over the phone or via email. Luckily this does not occur very often and the second attempt at reinstalling MSDE will be successful. Once MSDE is installed, the ShowSim installer will work properly.


Q: How do I get the license key for the downloaded demo version?

A: The demo key is automatically emailed to the email address specified on the download form. If you used a bogus email address here, then you will not be able to get the key. Email addresses are not collected and released to any third party organizations, so there is no risk in using a valid email address here. If you still don't trust our privacy policy, which is understandable given the unethical behavior of many internet marketing organizations, then create a new email address that you don't ever intend to check very often, which you can then use once in a while for situations such as this.


Q: How long will the demo version keep running?

A: The demo version is good for 30 runs. Each time you close ShowSim and then run it again, it adds one to your run count until 30 is reached. Thus if you want to play with the demo over a longer period, try not to close it very often during your trials.


Q: How does ShowSim work with my existing hardware?

A: Direct hardware support allows ShowSim to export the scripted show data into the native file formats of industry standard firing systems like FireOne, PyroDigital, PyroMate, Firelinx etc. In most cases it means generating a manufacturer specific data file that can be read by the firing software specific to each system. ShowSim does not fire the shows directly, so you still need the manufacturer supplied firing software specific to your hardware, but you don't need a separate scripting application to generate the data read by the firing software. In the case of PyroDigital, an RS-323 link or a .wav file containing FSK encoded show data can be loaded directly into the hardware without any additional firing software. In some cases the scripting and firing software are combined into a single application, such as PyroMate's SmartShow. The scripting in SmartShow is pretty basic and provides no simulation, so operators using that system would still benefit by using ShowSim even though they would still need to p


Q: Sometimes my background image disappears and I don't see any effects when firing my show. If I quit ShowSim and run it again, then everything works fine.

A: Whenever your screen saver takes over and blanks out your screen, there is an unknown situation that causes the graphics to stop working in ShowSim. Until a remedy for this problem is found, the current solution is to restart the program. It is a good idea to extend the timeout period on your screen saver so that it does not activate for at least an hour.


Q: Sometimes the effects "stick" for a brief moment during simulations, and the timing gets slightly off where it should be in relation to the music.

A: When your computer is unable to keep pace with rendering the graphics, playing the music, scrolling the graph and playing sound effects all at the same time, there can be brief moments where everything freezes. This is a symptom of inadequate resources within your system and usually occurs more frequently on laptops running the XP operating system. Many times it does not necessarily mean that your hardware is not fast enough to run ShowSim, but rather too many other tasks are running behind the scenes. Spyware and adware are notorious for this kind of hidden resource hogging, as are many unnecessary bloat-ware utilities that often come pre-installed on new computers. See the article on ShowSim Performance Tips for some guidelines on making your system run faster.


Q: My browser security setting are preventing help files from being viewed in explorer.

A: From the Tools menu of Internet Explorer, select Internet Options. Click the Advanced tab and then make sure the ''allow active content to run in files on my computer'' option is checked.


Q: When I use custom names for the cues, why doesn't the name appear in the Product reports?

A: The custom names get used on the setup reports, but on the chain list and product reports there's an inherent problem that prevents them from being used. The issue is that the custom cue name represents the name of the overall cue, but there can be more than one effect assigned to that cue, such as multiple different effects on different buckets etc. The problem is that the cue name, which is a summary for everything on that cue, is an inherently different piece of information than the actual names of each effect on the cue. If the program looked to see if the cue name was custom, then assigned it to all the effects under that cue when generating a product report, a different problem would arise in the case where the original effect names were the desired ones and the operator just renamed the cue for some other reason.


Q: How can I output the reports to PDF or Word document formats?

A: The general technique for getting document output into a format you want is to find a virtual printer driver that will do the conversion for you. For example, if you wanted to output to PDF format, you could use this tool:

http://www.win2pdf.com/

This is a $35 app that installs as a printer driver, and you just select it as the printer you want to use when printing the reports from ShowSim. While it is hard to find printer drivers that will convert directly to Word format, there are plenty of converters out there that will convert PDF to Word format.

The nice thing is that once you own these conversion tools, you can make any program output to the formats you want
Free Trial Downloads

Download 3D (Password Reqired)
ShowSim PRO Virtual Choreography Software $2,750.00
ShowSim XL Virtual Choreography Software $3,750.00
ShowSim 3D Virtual Choreography Software $4,750.00
Software Policy, any Software from Pyromate Inc. is Machine specific and can not be sold or transferred!