Specifications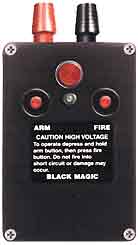 Black Magic
Hand held single cue unit.
Round push-back terminals for quick wire attachment.
Shrouded Buttons for Arm, Fire, and toggle for Continuity
Light to confirm continuity
Light to confirm charge is armed.
Discharges a steep curve of 250v.
9v alkaline internal replaceable battery.
No charge time required, ready instantly.
Can fire up to 200 e-matches simultaneously.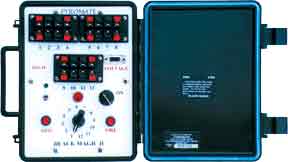 Black Magic II
12 cue compact unit in industrial ABS waterproof case.
24 terminals allow easy connection of 12 cues.
12 position, clearly marked cue selection switch.
Can fire up to 2400 e-matches (200 per cue simultaneously, 12 cues)
Keyed arm switch
Other specifications identical to Black Magic I.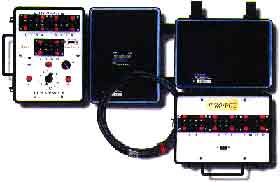 Black Magic III
Same features as Black Magic II
Adds a port, 100' cable, and 12 cue remote module.
Unit can be used with or without remote module.
Port and cable are standard VGA style 15-pin D sub connectors.
Remote module also enclosed in industrial ABS weatherproof case.